You are here
Hope Blossoms is Tonight, May 10!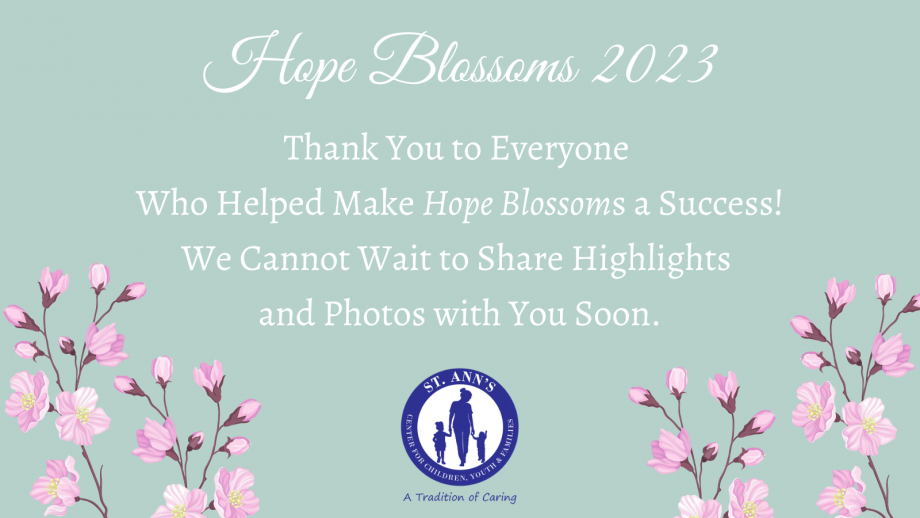 You're Invited to Hope Blossoms!
Our annual Hope Blossoms event takes place TONIGHT, May 10 from 6:00 PM - 8:00 PM EST.
To watch the livestream of our event, click here: https://youtube.com/live/zFPWP9rzFdw?feature=share
---
Date: Wednesday, May 10, 2023 | Time: 6:00 to 8:00 p.m. | Place: Columbia Country Club

For tickets, please click here: https://apps.stanns.org/special-events?EV=105
All proceeds will directly support St. Ann's Center's programs.
---
Honorees
Kathy & Ed Quinn | Mary McGrory Advocacy Award
Trudy Conrad | Michele Heidenberger Volunteer Award
Luke Hester | Michele Heidenberger Volunteer Award
Invocation
His Excellency Roy Edward Campbell, Jr., Auxiliary Bishop of Washington
Emcee
Michael Steele, CNBC Analyst and Former Lieutenant Governor of Maryland
Event Details
---
Thank You to our Generous Event Sponsors!
Leadership
Kathy and Ed Quinn, in memory of Anne O'Keefe Quinn

Cory and Joe Rogers
Benefactor
Andreas Foundation

Kammie and Scott Bell

Judy and John Ritz
Advocate
Archdiocese of Washington

Magnolia Companies

Kimberly and John Manthei
Believer
Hon. James Belson

Mr. and Mrs. Joseph E. Borger

Colleen Mahoney

Mary and Matt McCormick

Genevieve L. Murphy

Bill and Mary Noel Page

Chris and Lisa Smith

John and Joan Theis

Rev. Msgr. Peter Vaghi, Church of the Little Flower
Partner
Gelman, Rosenberg & Freedman, CPAs & Advisors

The Heidenberger Family

IBEW Local #26

Robert H. Lacey, III

Doug and Mary Beth McDaniel

R. Scott and Courtney Clark Pastrick

Petitbon Alarm Company

Linda Rosecan, Albert and Linda Rosecan Charitable Foundation
Friend
Anne Moore and Vinny Allen

Mr. and Mrs. Charles Asmar

Lisa Barry

Jane and Kevin Belford, in honor of Ed and Kathy Quinn

Boland

Danielle Brabazon and Bette Lewis

CareFirst BlueCross BlueShield

Chesapeake Identification Products, Inc.

Ellen and Stephen Conley

David and Kathy Cornwell

C. Maury Devine

Meg Finn

Eileen and Mike Fitzgerald

Sue and Christopher Flaherty

Karen and Patrick Gilroy

Heritage Investors Management Corporation

Jules and Kerry LeBoyer

Pam and Dennis Lucey, Chris Lucey and Katie Jack, and Meghan and Quinn Rounsaville

Mr. and Mrs. Michael T. Madden

Barbara Sweeney O'Neill and John J. O'Neill, Jr.

Our Lady of Mercy Catholic Church

Sue and Vernon Pizzi

Jonathan Kahan and Linda Roth

SOAR! Support Our Aging Religious

Judi A. Teske

Chuck and Sheila Wagner

Liz and Tim Welsh

Annie Wichman
---
Hope Blossoms 2023
To relive the highlights of our 2023 Hope Blossoms event, please click here:[Link coming soon]