You are here
Special News Announcement from Sister Mary Bader, CEO
Feast Day of St. Vincent de Paul - a saint who helped establish the Daughters of Charity in 1633, and whose spirit influenced their ensuing ministries such as St. Ann's Center (est. 1860)!
I write with a heart full of gratitude for the exceptional support you have given mothers and their little ones at St. Ann's. Through your generous gifts, you have helped so many families move from a life of uncertainty to one of hope, opportunity and independence. You have made a lasting difference in their lives.
Since you are a valued supporter of our mission, I wanted to share with you some news about an upcoming leadership change at St. Ann's.

After 18 years at St. Ann's Center's helm, I have been called by my religious order, the Daughters of Charity, to serve in a leadership role as a member of our Provincial Council. In this new role, I will provide guidance for Daughters of Charity communities and missions in states east of the Missouri River. My last official duty as CEO of St. Ann's Center will be hosting our Christmas Open House on December 3, 2023.

Meanwhile, Daughters of Charity will continue to live and volunteer at St. Ann's, continuing the tradition of caring which our founders, St. Vincent de Paul and St. Louise de Marillac, began in Paris in 1633 as they served the abandoned, neglected, and most vulnerable persons in their city. Here in the Washington, DC area, St. Ann's Center has carried on that tradition since our founding in 1860 – and this mission will continue, God willing, for many more years.

St. Ann's Center's Board of Directors has formed a search committee for a new CEO to continue, adapt, and grow our mission. We have selected LeaderFit, a Washington, DC based executive search firm, to assist in this effort. The St. Ann's community appreciates your prayers with this special effort! We look forward to updating our community on this search soon.

I hope that you will support the next person in my position as graciously as you have supported me and, most importantly, those we serve at St. Ann's. Know that you will always be in my prayers as I thank God for the many people I have come to know who care deeply about neglected mothers and children in our community. May God bless you and your loved ones.





Sister Mary Bader, CEO
P.S. You can read a Press Release with more details about my transition here: https://www.stanns.org/press-release-sept-2023
---
Join Us for St. Ann's Fall Social on October 4!
Please join us on Wednesday, October 4 for our annual Fall Social at the Irish Inn at Glen Echo! We are celebrating St. Ann's families and all they have achieved this past year. We are also celebrating St. Ann's 163rd anniversary since our founding by the Daughters of Charity in 1860.
Date: Wednesday, October 4
Time: 5:30 PM - 7:30 PM
Place: The Irish Inn at Glen Echo
Map: 6119 Tulane Avenue, Glen Echo, MD 20812
Individual Ticket: $60
Under-35 Ticket: $35
Ticket purchase includes: heavy hors d'oeuvres, beer and wine, and of course, the best Guest Bartenders in the DMV! Stick around for live music provided by the Inn! Limited on-site parking is available. Additional parking on Tulane Avenue and on Oxford Road at Glen Echo Park.
For questions please contact Ellen Toups, Manager, Annual Giving & Corporate Relations at [email protected] or (301) 559-5500.
Link to RSVP | https://apps.stanns.org/dacha-happy-hour?EV=175
Share this event with others! Click to download and share our event postcard.
---
About St. Ann's Center
St. Ann's Center helps mothers and children overcome crisis and achieve lasting independence and stability by providing a safe and supportive home, child care, education and employment assistance, and clinical social work services within a Catholic community that welcomes all.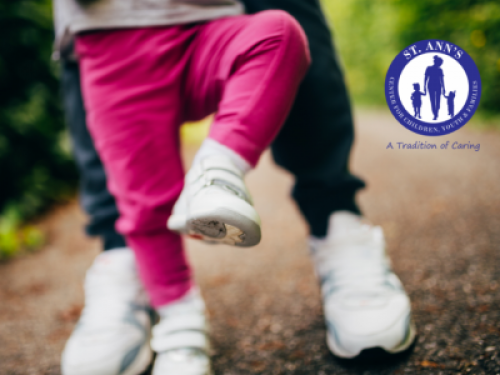 Image: Mother and daughter walking on a path together.