You are here
Volunteer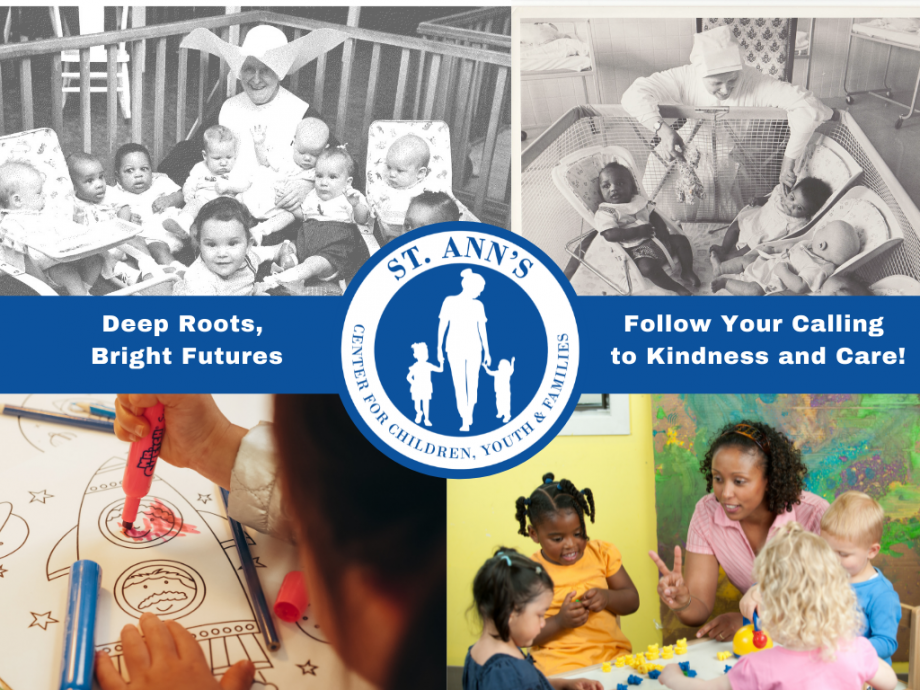 NOTE: Due to the COVID-19 pandemic, many of the opportunities below have been limited. Please click here to contact our Volunteer Coordinator regarding current volunteer needs. Thank you for your interest and patience.
St. Ann's Center for Children, Youth and Families currently works with more than 300 individual and group volunteers who are crucial in helping us further our mission. These dedicated individuals share their time, energy and kindness to ensure that St. Ann's residents are provided extra support and understanding in their journey towards permanent housing and financial independence.
Resident moms attend Life Skills classes on weeknights. We frequently recruit female adult volunteers to help care for their children while the mothers are in class. Child Care Volunteers can commit to one or more evenings per month. The weeknight shifts begin at 6:00 p.m. and usually end by 7:15 p.m.
Volunteer Mentors are matched with a mother living at St. Ann's. The Mentees rely on their Mentors to share the successes and challenges they encounter both in their personal life and their individualized program. Volunteer mentors are required to stay in weekly contact with their Mentee(s) either via text and/or phone call and to meet with them in person once a month. This mentoring opportunity calls for the volunteer to provide guidance and support to the Mentee with compassion, dignity and respect. Mentors further help families heal from the past, overcome barriers and take hold of their future by empowering them without judgement or expectations.
Young Professionals Network If you are a young professional who desires to be an effective change maker, come to St. Ann's Center and become a part of our legacy. You can make a difference in the lives of others while meeting new people of all backgrounds. We are looking for emerging leaders ready to put their skills and ideas to work in support of the St. Ann's community. If interested, please join our mailing list to receive information about ways to engage with us and our upcoming events at [email protected]. We look forward to hearing from you.
St. Ann's has an ongoing need for Volunteer Groups to hold events for families living at St. Ann's.
Religious Organizations
If you are a member of a church, temple or synagogue, speak to your fellow-members about creating an activity at St. Ann's to benefit both young mothers and their children. Some ideas include a karaoke night with snacks, a learning presentation and/or an arts and crafts activity. You can get additional ideas for activities from our Volunteer Services Coordinator.
Community Group
Are you active in a professional, social, academic or civic group? Plan a Saturday early afternoon event at St. Ann's! Share your talent with St. Ann's families such as a musical performance or a dance/Zumba class!
Professionals in their field can make a presentation to young mothers on topics such as employment, financial competency, or another life-skill related topic.
Two or more experienced teachers can organize an arts and crafts activity for the toddlers in our Child Care Center.
Volunteer for a Good Cause!
Do you and your group members like to roll up your sleeves and work with your hands? Can you handle a paint brush, cleaning supplies, or gardening tools? Do you know any students in search of a group service project?
Periodically St. Ann's Center recruits volunteer groups to help refresh, clean-up, paint our facilities and to spruce up our grounds. Please click here to email our Volunteer Coordinator for additional information or to schedule a day of service. Thank you!
For detailed information about these and other possible volunteer opportunities, please contact:
Volunteer Services Coordinator
All interested prospective volunteers are required to pass a Criminal Background check(s) and a Tuberculosis (PPD) test.
Many thanks for your generosity in supporting our ministry to mothers and their children.
---