You are here
Support the Families of St. Ann's Center and "Give Your Cup" this #GivingTuesday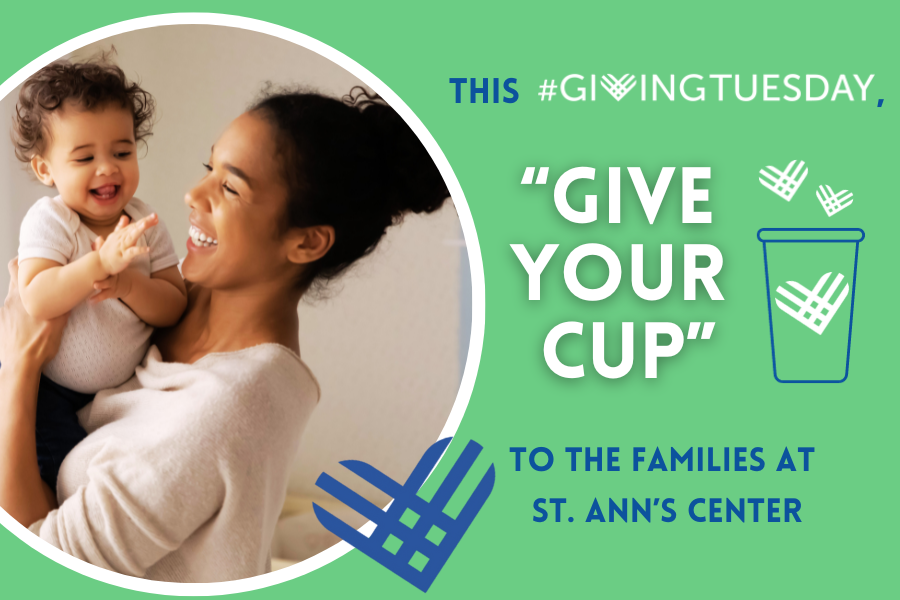 Support the Families of St. Ann's Center and "Give Your Cup" this #GivingTuesday
#GivingTuesday is a wonderful way to kick off the giving season! Everything has a start- how do you start your day? Many Americans start their day with a jolt- a shocking alarm, a quick walk with the dog...and then... a fabulous cup of coffee! Doesn't that sound normal? In America, we often spend a large amount on our daily cup-- in fact, we average between $5-$7!
This #GivingTuesday, we ask you to join us and "Give Your Cup" of coffee, tea, or any other "cup" for one day ($6), one week ($30), one month ($120), one day a week for a year ($312), or any amount in-between to support St. Ann's families.

Your support means so much to the families at St. Ann's Center! Your "cup" can have an immediate impact in many ways for the women and their children:
A week of "cups" can help provide supplies for children to engage in creative activity in their Child Care classrooms.
A month of "cups" can help provide one month's worth of Life Skills classes for a mother to gain valuable parenting, financial, and personal wellness skills.
A weekly "cup" for a year can provide groceries for a family for one month.
Together, we can "brew" brighter futures for the families at St. Ann's Center!
Thank you for the many ways you support St. Ann's families in reaching their goals!
Tags