You are here
7 Reasons We're Grateful for You!

Hello from St. Ann's Center for Children, Youth and Families!
This Thanksgiving week, we wanted to express just a few of the many ways we are grateful for you and the difference you make for the families living at St. Ann's.
1. You help St. Ann's Center to welcome vulnerable families beginning their healing journeys. Thanks to you, five new families have been able to join St. Ann's supportive and transitional housing programs so far in FY 2023.
2. Your help makes an immediate impact in families' lives. The moment a mother and her children begin their journey with St. Ann's, they have immediate access to safe housing and on-site child care, relieving two major stressors.
3. You help us to create a holistic and caring environment. Through you, families at St. Ann's are supported in an environment that is safe, nurturing, healing, empowering, and strength based – where all are served with compassion, dignity and respect.*
4. You help St. Ann's families to have fun! Thanks to you, St. Ann's families can bond and create wonderful new memories with on-site holiday parties, movie nights, pizza socials, and more!
5. You help mothers advance toward long-term goals.
Mothers at St. Ann's are supported in their educational and employment goals through robust case management assistance.
6. You help mothers to heal from past traumas and explore their future potential. Thanks to you, mothers at St. Ann's can access individual and group counseling through our strengths-based and trauma-informed Clinical and Social Work Services.
7. You help TWO generations break the cycle of poverty. Through you, mother and child are able to interrupt the multi-generational effects of poverty and begin writing new futures!
Thank you for supporting St. Ann's families through your time, talent, and treasure! Generous people like you give us hope not only for vulnerable families in our region, but all those in need throughout our country and the world.

Wishing you peace and plenty this Thanksgiving!
*St. Ann's Center, Mission & Values
---
#GivingTuesday is One Week Away!
We hope you will be able to support St. Ann's families in a special way through our 2022 Giving Tuesday drive - taking place on Tuesday, November 29.
On this day we will share special stories, photos, and videos celebrating St. Ann's families and the donors like you who support their many achievements. We will also share a dedicated Giving Tuesday webpage, where you can join others in making a gift of any size to help us reach our Giving Tuesday goal of raising $25,000 for St. Ann's programs.
Thank you for considering a gift to support St. Ann's families!
Donate here: https://www.stanns.org/givingtuesday-2022
---
About St. Ann's Center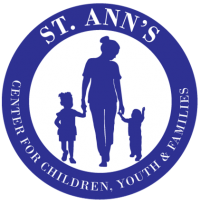 Mission Statement: St. Ann's Center for Children, Youth and Families strengthens and supports families on their journey toward stability. Inspired by Catholic social teaching and Gospel values, St. Ann's Center provides a nurturing community where families heal from the past, overcome barriers, and take hold of their future.
St. Ann's Center is a registered 501(c)3 nonprofit committed to lifting vulnerable children, mothers and families out of poverty and homelessness. Our innovative housing and support programs build upon a family's inherent strengths by providing the tools for life-long independence and self-sufficiency. St. Ann's serves families of all backgrounds and faith identities.
Tags