You are here
HOPE BLOSSOMS 2018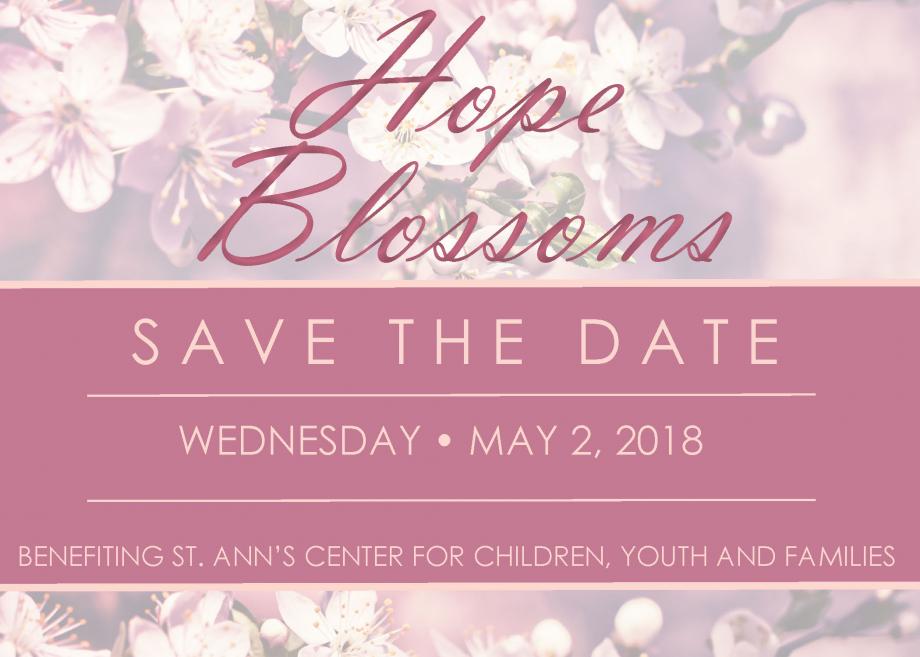 Click here for tickets and sponsorship opportunities.

Sister Mary Bader and Honorary Hosts, Trish and Neil Cullen invite you to SAVE THE DATE.
May 2, 2018
6PM to 8PM

Columbia Country Club
Chevy Chase, Maryland
EMCEE
Kevin Sheehan
Co-Host of "Cooley and Kevin"
HONORING
The Honorable Marielsa A. Bernard
The Mary McGrory Advocacy Award
Chuck Short
The Michele Heidenberger Volunteer Award

Contact Carolyn Boyle for event information.

THANK YOU TO OUR SPONSORS FOR SUPPORTING HOPE BLOSSOMS

Leadership Sponsor
Andreas Foundation
Archdiocese of Washington
Joe and Cory Rogers
Advocate Sponsor
Scott and Kammie Bell and Family
Mikel and David Blair
Edward and Kathleen Quinn
The Seton Guild
Guardian Sponsors
Borger Management, Inc.
Capital One
District Contracting Group, Inc.
Elite Personnel
Friends of St. Ann's
Heritage Investors Management Corporation
Magnolia Family Foundation
Mrs. Genevieve Murphy
Bill and Mary Noel Page
The Ritz Family
Mr. and Mrs. John Theis
Believer Sponsors
Anonymous, in memory of Christine Ann Durbin, Georgetown U., '90
Boone & Sons Jewelers
Nancy and Joe Borger
Church of the Little Flower
Ellen and Stephen Conley
Michael and Joan Conley
Michael and Eileen Fitzgerald
Greg and Weed Forte
Holy Cross Health
Insurance Associates
Edward and Mary Ann Krause, III
McCormick Family
Petitbon Alarm Co.
Potomac Construction Services
Providence
W.C. Smith
Ellen and Gus Smyth
John and Colleen Williams
Friend of St. Ann's
Chick and Lynda Anderson
Chuck and Alta Asmar
Amb. Elizabeth Bagley
Bel Air Engineering and Service Co., Inc.
The Hon. James A. Belson
Boland Services
Butler Armstead Consulting Solutions
Catholic Charities of the Arch. Of Wash.
Catholic Health Association
Liz and Tim Cullen
Neil and Trish Cullen
Bruce and Patricia Cunningham
Dr. Ellen M. Dugan and Dr. Dennis A. Cullen
Don Bosco Cristo Rey High School and Corporate Work Study Program
Mr. and Mrs. Robert Easby-Smith
Mr. and Mrs. Thomas Flanagan
Amy E. Freeman
Gelman, Rosenberg & Freedman
Lulu and Geoff Gonella
Steve and Ann Heidenberger
Thomas and Julia Heidenberger
Karen and Chuck Hess
Robert (Chip) Lacey
Jules and Kerry LeBoyer
Logan Lee
Mike and Geri Madden
Colleen Mahoney
McCormick Paints
Michael McCurry
Doug and Mary Beth McDaniel
John C. McDonald
John Mullins PC
Barbara Sweeney O'Neill and John J. O'Neill, Jr.
Payroll Network
Paul and Elizabeth Perkins
Scott and Joanne Pinover
Potomac Community Resources in honor of Chuck Short
Jack and Katherine Railey
Deborah M. Royster and Robert A. Malson
SMP Investments LLC
United Bank
Nicola Y. Whiteman

Click here for tickets and sponsorship opportunities.