You are here
2022 Fall Social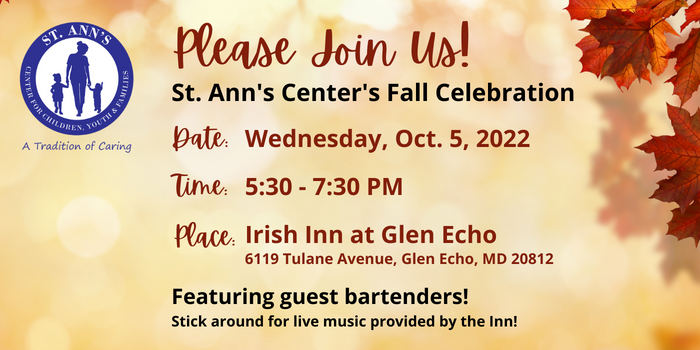 ---
Join us for St. Ann's Center's annual Fall Social at The Irish Inn at Glen Echo!
Tickets are available here: https://stannsfallsocial2022.eventbrite.com
Please join us on Wednesday, October 5 to celebrate St. Ann's Center families and all they have achieved in recent months. We are also celebrating St. Ann's 162nd anniversary since our founding by the Daughters of Charity in 1860.
So join us in socializing with the people who make St. Ann's mission possible! Click here to see photos from our most recent Fall Social in 2019.
Event Info
Date: Wednesday, October 5, 2022
Time: 5:30 PM - 7:30 PM
Venue: The Irish Inn at Glen Echo - 6119 Tulane Avenue, Glen Echo, MD 20812
Featuring Guest Bartenders:
Dan Kerns
Pam and Dennis Lucey
Kristen Coleman McDaniel and Warren McDaniel
Mary Beth and Doug McDaniel
Annie Moore and Vinny Allen
JoJo and David Pim
Judy and John Ritz
Megan and Quinn Rounsaville
Carey and Ryan Shuler
Ticket information and registration are available at the following link: https://stannsfallsocial2022.eventbrite.com
Your ticket purchase includes heavy hors d'oeuvres, beer and wine, and of course, the best Guest Bartenders in the DMV! Stick around for live music provided by the Inn! Limited on-site parking is available. Additional parking on Tulane Avenue and on Oxford Road at Glen Echo Park.
For questions please contact Carolyn Boyle at (301) 559-5500 or email [email protected].
We hope to see you there!
Tickets
Individual Ticket - $50
Under 35 Ticket - $30