You are here
Your Support = School Year Success for St. Ann's Families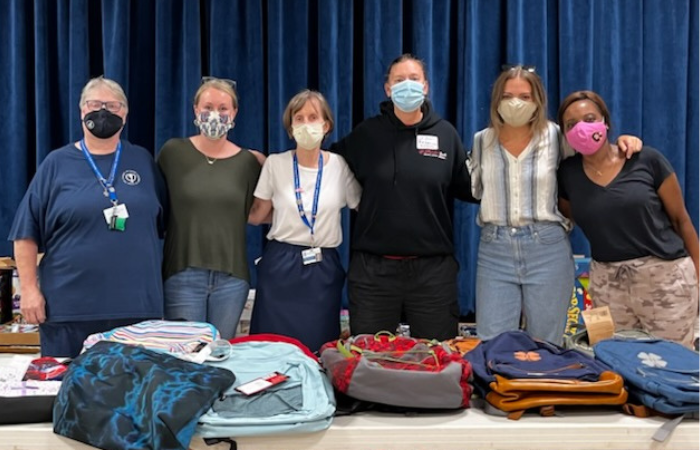 ---
With Back-to-School season in full swing, we wanted to share with you just a few ways that your support of St. Ann's Center has created new academic and professional opportunities for our families in residence! Over the past week, we have celebrated as:
Several babies and toddlers in residence began their first day at our on-site Child Care Center.
One mother attended Child Care orientation with her little one in the morning, and that afternoon attended her own graduation from cosmetology school.
Five of our mothers began their own high school year at nearby public schools.
Several young children in residence attended their first day of classes at local elementary schools.
One resident mother escorted her child to our Child Care, and then headed off to her first day at a new job for which she recently completed training.
A child and mother, both carrying backpacks, waved goodbye as they left for elementary school (child) and college (mom) on the same morning.
After taking her children to school and day care, one mom quickly left the building to finish registering for her nursing assistant training program.
Thanks to you, St. Ann's is a place where these kinds of new beginnings can happen for families who previously faced significant insecurity and adversity. Thank you – from the bottom of our hearts – for being a friend and supporter of the families living at St. Ann's Center!
---
School Supply Drive - Photo Highlights!
Thanks to generous donors, St. Ann's families were able to attend an amazing School Supply Drive right in our auditorium! Mothers and their children in residence were able to select new backpacks, notebooks, clothing, and even school-friendly snack items for the year ahead. Thank you so much to all who donated school supplies - and especially to the staff from Jiffy Lube Live for making this event come to life.

---
You're invited to St. Ann's Center's Fall Social!
Join us on October 5 at the Irish Inn at Glen Echo to celebrate St. Ann's families and all they have achieved this year. We're also celebrating 162 years since our founding by the Daughters of Charity in 1860.
Event Details & Tickets here: https://www.stanns.org/events/2022/10/2022-fall-social
---
Help St. Ann's Families Transition to the New School Year
You can help these families continue to have a smooth transition by making a gift to support our transitional housing programs and wrap-around supports. These programs provide the solid foundation upon which St. Ann's families are able to build new futures.
Click here to make your gift today: https://donatenow.networkforgood.org/stannscenter
---
About St. Ann's Center
St. Ann's Center is a registered 501(c)3 nonprofit committed to lifting vulnerable children, mothers and families out of poverty and homelessness. Our innovative housing and support programs build upon a family's inherent strengths by providing the tools for life-long independence and self-sufficiency. St. Ann's serves families of all backgrounds and faith identities.