You are here
Carla's Story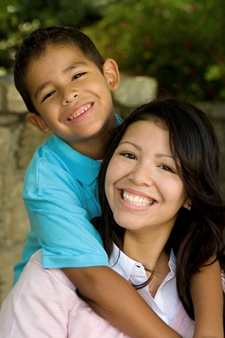 After months of unreliable employment and couch-surfing, Carla* had begun to think that she would never be able to provide a stable home for her son. When she arrived at St. Ann's Center for Children, Youth and Families, she had two goals in mind: to find a secure job and an apartment for her family.
"She had goals, but she needed to visualize a plan, a path forward," explained Rhonda Bethea, St. Ann's Resident Manager.
As soon as Carla and her son settled into their new Hope House apartment, Carla began to meet with her Employment Counselor. Together, they created a resume, identified nearby job opportunities and practiced interview skills. Each day, after dropping her son off at St. Ann's on-site child care center, Carla put her new skills into practice as she went out and introduced herself to prospective employers.
"We always encourage the young ladies to get out there and talk to employers," explained Ms. Rhonda. "Face time is important. It helps to put you ahead of the other applicants."
Within a few weeks, Carla was hired part-time by two local retail stores. But even as she learned to balance her new work schedule with parenting responsibilities, Carla continued her job search. She knew from her life skills classes that in order to create a safe and stable childhood for her son, she would need a position with benefits and advancement opportunity.
In September, she found it: an opening at a local child care center. With her resume in hand and interview skills honed, Carla introduced herself to the manager and walked out with a full-time job with benefits.
By January, Carla had also reached her second goal. She and her son found their very own apartment, close to her job and his school.
Ms. Rhonda could not be more proud. "We may have given her the tools and support, but she did it all on her own," explained Ms. Rhonda. "And she just told me that she has set her next goal: to buy her first car."
*Names have been changed to respect the privacy of our clients.
Read more about our Education & Employment Program and our Transitional Housing Programs, Hope House and Faith House.
Tags