You are here
Christina's Story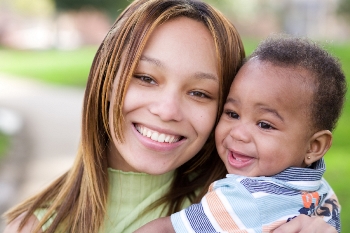 When a family enters St. Ann's residential programs or a baby is delivered, the mother and child meet with St. Ann's Physical Therapist, Karen Konar, to evaluate their child's development. For Christina*, a young mother living in Hope House, this first appointment held special significance.
Christina's* son Michael* was born with a congenital kidney disease that required multiple hospitalizations and surgeries during his first months of life.
During her initial evaluation with Christina's son, St. Ann's Physical Therapist Karen Konar determined that Michael had motor skill development delays and significant weakness in his shoulders and trunk muscles, most likely due to his medical challenges.
Christina began bringing Michael to weekly developmental interventions with Ms. Karen. She noticed the changes almost immediately. Within the first month, Christina saw improvement in his overall strength. A month later, Michael started to belly crawl. Soon after that, he was pulling himself up on furniture into a standing position.
At the time of this report – 9 months after his initial evaluation – Michael is walking several feet at a time. He will continue to receive Physical Therapy until he is walking independently, Ms. Karen and Christina know that he will meet this important milestone in the near future.
*Names have been changed to respect the privacy of our clients.
Read more about our Transitional Housing Programs, Hope House and Faith House.
Tags