You are here
Zinzi Family Nets $32,000 for St. Ann's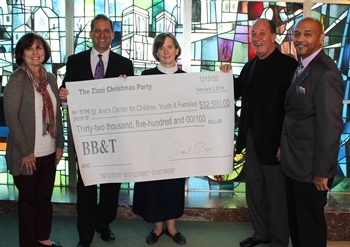 For decades, St. Ann's Center has been one of the fortunate beneficiaries of the annual Zinzi Christmas Party. This year, the Zinzi Party's organizers, sponsors and attendees raised a whopping $65,000 for St. Ann's Center and Children's Hospital.
Known throughout Washington D.C. as the "Bartender's Ball", the Zinzi Family Christmas Party is attended by members of our area's bar, restaurant and nightclub industry.
Their sponsors include many major hospitality and distribution companies. At St. Ann's Hope Blossoms celebration in May 2015, we presented the Zinzi family and friends with the Michelle Heidenberger Volunteer Award, for their many years of support for St. Ann's children and young families.
Thank you to Frank Zinzi Sr., Frank Zinzi Jr., Chris Zinzi, Jeff Harrison and all those who make the Zinzi Christmas Party possible. We are so grateful for your continued partnership and generosity.
Tags