You are here
United Way NCA Awards Grant to St. Ann's Center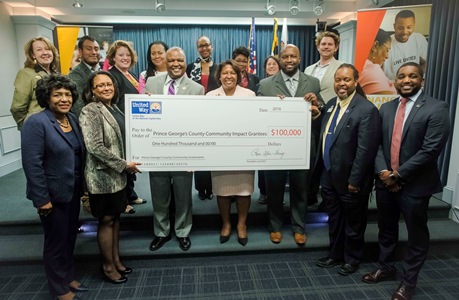 United Way of the National Capital Area (United Way NCA), the region's preeminent convener, collaborator and catalyst for social change throughout the National Capital community, has awarded $100,000 in Community Impact grants to seven nonprofit partners serving in Prince George's County, including St. Ann's Center for Children, Youth and Families.
The grants awarded are part of United Way NCA's new Community Commitment, a $10 million dollar investment to address the education, financial stability and health of residents throughout the National Capital community over the next five years. Individual contributions by United Way NCA supporters and our Community Impact grants have resulted in an investment of more than $1 million in Prince George's County over the past year. The grantees were announced at a ceremonial check presentation at the County Administration Building in Upper Marlboro, MD.
"United Way NCA's Community Impact grant process helps us to focus our investments to create maximum impact in the areas of greatest need in our community. With our nonprofit partners, we are preparing more of our youth for lifelong health and success, and helping more families to break the cycle of homelessness and become financially stable," said Rosie Allen-Herring, President and CEO, United Way NCA.
This year, United Way NCA is awarding a total of 61 Community Impact grants to nonprofit partners. The 2016 Community Impact Grant funding priorities are focused on middle grade success and mentoring in the area of education; financial independence, homelessness and affordable housing in the area of financial stability; and healthy eating, active living and basic needs support in the area of health.
Learn how you can support St. Ann's Center through the United Way or your workplace giving campaign.
Tags