You are here
Eboni's Story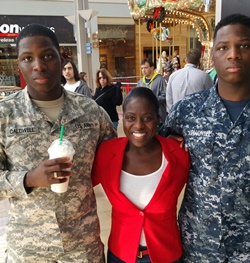 Eboni Caldwell, former resident of St. Ann's Center and mother of two, recently shared her story at our Hope Blossoms fundraiser. The following is a transcript of her testimony.
St. Ann's holds a very special place in my heart. When I was just 20 years old, I found out that I was pregnant with twins. I didn't have any support and I didn't know what to do. Then I found St. Ann's.
The most gracious woman Karen Nolan sat down with me and listened to my dilemma. The whole St. Ann's staff was loving and caring. I never, not once, felt any negative vibe from them. They all welcomed me with open arms. To be honest I was grateful with every fiber of my being that my unborn twins and I were going to have a roof over our heads, a sound/safe place to sleep, and food to eat.
The staff and volunteers at St. Ann's gave me so much support. There are too many people to name specifically. Every person was instrumental in transition of becoming a mother of Twins. Up to this very day my one of twins remembers his first birthday party with the NUNS as he so calls it. This place brought me so much joy. When it was time to leave for the weekend, I had nowhere to go. I totally enjoyed spending the weekend at St. Ann's. My boys would always run to Sister Josephine every time they saw her. They loved Peggy Gatewood, Mr. John Forbes… they loved everyone!!
My sons were born on June 11, 1996. The first time I found out that I was pregnant with twins I CRIED because I was overjoyed, scared, excited, confused, ALL at the same time. The nurse told me to hold on while she count because she saw so many hands and feet. I told her if there were more than 2 babies, I was going to stay on that bed until I had them!! Gosh I was scared, but I felt blessed. God chose me to carry and bring into this world TWO blessings. They were full term and 7 hours apart… yes, I said 7 hours apart.
I am so proud of the young men that they have become today. They are 19 years old and are both members of the military. De'Ron is becoming a pilot in the Navy and Deion is in communications in the US Army and accepted at Bowie State. He's going to Korea in August as well. I am also proud to say that I was able to follow my own dreams and become a small business owner. I'm an insurance broker I supply short disability, supplemental benefits, to government and federal employees. But my favorite is I educate others on financial literacy and offer Life Insurance Savings Account that creates generational wealth, Tax Free Retirement, Living Benefits, and million dollar babies.
I don't know where my sons and I would be today without St. Ann's. Because of St. Ann's, I was able to give my sons the childhood that they deserved and follow my own dreams. I learned A LOT through St. Ann's programs, maternity, mother-baby and Faith House where I learned to live on my own with children, pay bills, take care of a family.
I recently decided to come back to St. Ann's to give back. With a few of my colleagues, I have been talking with the girls and women of St. Ann's about Financial Literacy. Investing in yourself and children first as to build generational wealth. I loved how they faces lit up when I told them my background and how I'm a product of St. Ann's. In April we awarded 9 young mothers at St. Ann's with certificates in financial responsibility.
Please know that when you support St. Ann's, you are giving young families like mine the tools and support to be successful. I love and adore St. Ann's.
Tags