You are here
Summer Meals for Maryland's Students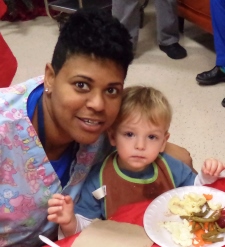 While the students that reside in St. Ann's Teen Mother-Baby Program during the summer receive nutritious meals throughout the year, for some Maryland students the end of a school year brings up a tough question: Where will I find my next meal?
For families with children, food insecurity increases during the summer months. But now, the Summer Food Service Program (SFSP) is here to help.
Maryland's SFSP provides nutritious meals and snacks to low-income children (ages 18 and under) during June, July, and August when school is not in session. Meals and snacks are served at "sites," which are places where children congregate during the summer. This can include schools, community programs, faith-based programs, parks, housing complexes, and recreation centers.
To find a location that is serving Summer Meals site near you, please take a look at MSDE's Summer Meals Site Locator.
Tags