You are here
Women's History Month: Honoring Mary McGrory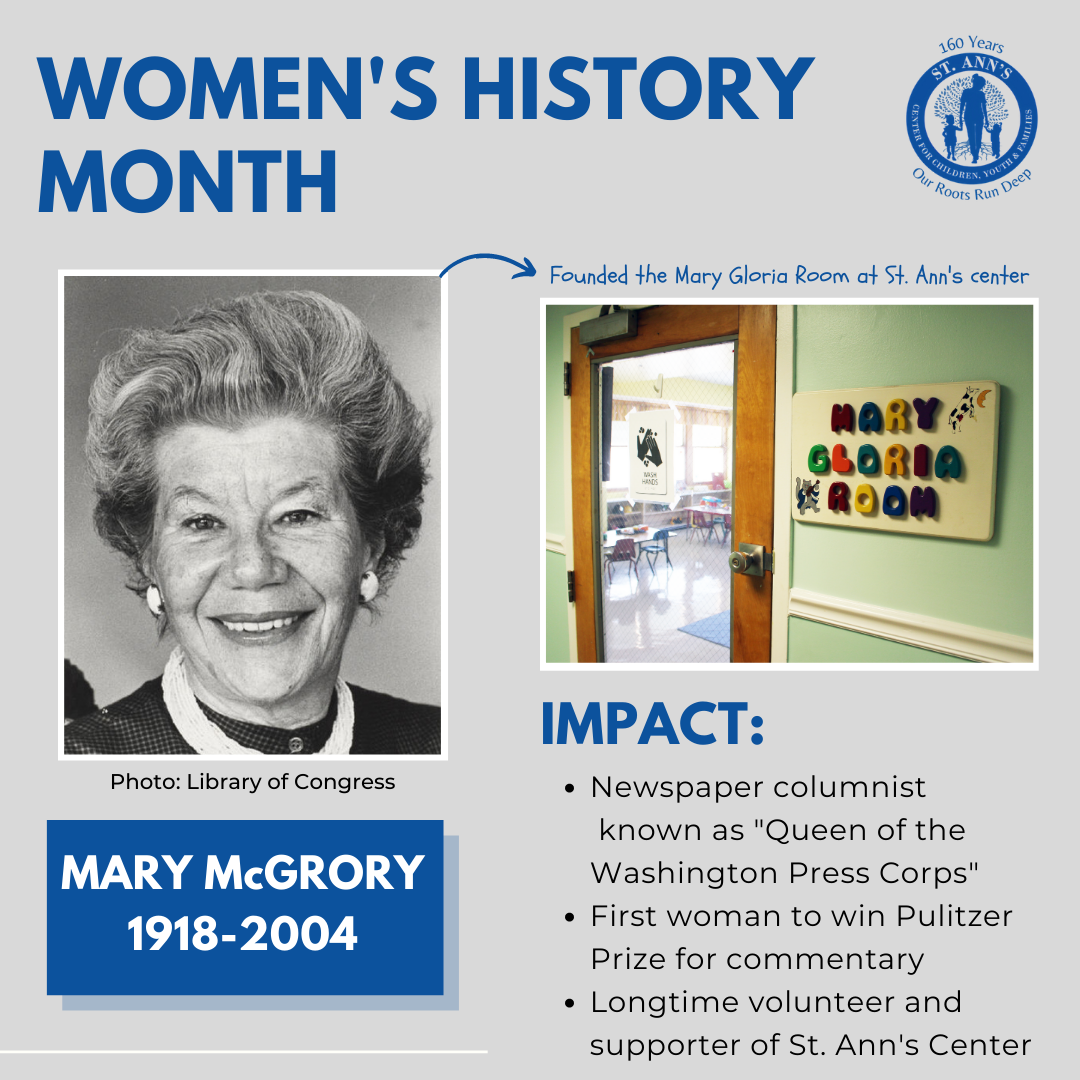 This Women's History Month we honor groundbreaking journalist Mary McGrory. Known as "The First Queen of Journalism," McGrory began her career at a time when few women worked in newspapers. Through her sharp and distinctive reporting, McGrory quickly soared to the heights of her profession. Her syndicated columns ran in more than 150 newspapers across the county, and in 1975 she became the first woman to win a Pulitzer Prize for commentary. She spent much of her career in D.C., covering Washington politics for the Washington Star and the Washington Post.
For over fifty years, McGrory served as a volunteer with St. Ann's Center and was a friend to the Daughters of Charity. As the Center's first official volunteer, McGrory helped children with reading and homework, organized picnics and field trips, and hosted Christmas parties and other celebrations. The children called her "Mary Gloria" because they could not pronounce "McGrory." Near the end of her life, McGrory's generosity helped to fund the Mary Gloria Room at St. Ann's Center, which opened in 2000 and continues to serve as a reading and play space for our families.
McGrory is remembered through the Mary McGrory Advocacy Award, which St. Ann's Center presents each year to recognize individuals whose work brings attention to the needs of some of the community's voiceless: homeless and vulnerable youth and young mothers. Join us for our 2021 virtual spring gala, Hope Blossoms, when we will present the Mary McGrory Advocacy Award to our next deserving awardee! More details coming soon.
Watch out for information about Hope Blossoms here: https://www.stanns.org/events