You are here
World Social Work Day 2022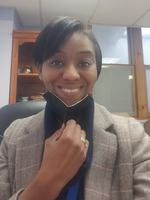 World Social Work Day - Interview with Celeste Wallace, M.S.W.
This World Social Work Day*, St. Ann's Center celebrates Celeste Wallace, M.S.W. – recent graduate of Howard University School of Social Work and a member of St. Ann's Clinical and Social Work Services team. Celeste recently shared about her experiences working alongside the mothers and families living at St. Ann's – and how she hopes these experiences will inform her future social work career.
---
Full Name: Celeste Monique Wallace
Social Work School: Howard University School of Social Work
Graduation Date: December 12th, 2021
Began Internship with St. Ann's Center: January 2021
Began Employment with St. Ann's Center: May 2021
1. Celeste, what first drew you to the Social Work field? How did you decide to pursue your M.S.W.?
What drew me to the field was the desire to support individuals, families and communities while they are in the process of change in their life. I saw that there is a great need for support systems in the DMV and after many years of consideration I decided to continue my pursuit in obtaining a Masters in Social Work.
2. How did you get connected with St. Ann's Center for your internship placement?
Dr. Janice M. Davis, Director of Agency-Based Education at Howard University School of Social Work, contacted me and told me about the opportunity to intern at St. Ann's Center. Dr. Davis spoke highly of St. Ann's and told me it would be a great experience; I was then connected with Mrs. Shaneen Alvarez, St. Ann's Director of Clinical and Social Work Services.
3. Can you summarize your role as an intern with St. Ann's Social Work team?
In my role as Case Manager, I work with the St. Ann's team to provide supports to the residents at St. Ann's on their journey towards independent living.
4. Can you describe a typical day for you?
A typical day for me involves reading and responding to a variety of emails in the morning, then meeting with clients and writing case notes through midday. I meet with clients again in the afternoon, and follow up on any email items before heading home.
5. What is it like to work with St. Ann's families? Can you speak to any of the challenges, opportunities, or rewards of this process?
Working at St. Ann's is great! I love interacting with my clients and watching their growth and development.
6. Tell us about a time you said to yourself, "I really made an impact today"?
When I got a client to break out of their shell and open up, watching on their face their ability to reflect on their life and use that to put goals in place for the future.
7. What are your long-term Social Work career goals? How does your work at St. Ann's fit into your vision for your professional future?
My long-term goals are to develop programs to help foster care youth prepare for independent living. I have the ability to be creative at St. Ann's with Life Skills Classes, and I have a great mentor and supervisor Mrs. Alvarez, who offers guidance on program development and clinical management. My experience at St. Ann's will help me develop effective programming that makes a difference in the lives of whom I serve.
Thank you Celeste for all you do for St. Ann's families!
---
*March 15 is World Social Work Day – an opportunity to honor the many contributions of social work professionals in our communities and across the world. World Social Work Day is observed every year on the third Tuesday in March – which is also Social Work Month. The theme for Social Work Month 2022 is: "The Time is Right for Social Work."
About St. Ann's Center Clinical Social Work Services: The St. Ann's Social Work team supports mothers with creating comprehensive service plans that help them successfully reach their independent living goals. Regularly scheduled meetings and visits ensure progress so that mothers and their families achieve stability.
We also provide a range of clinical services including: Case management; Individual, group and family therapy; Crisis management and intervention; and Aftercare. Our goal is to provide a safe and stable environment for mothers to connect with and parent their children while receiving the supportive services necessary to thrive.
For more information about Clinical Social Work Services at St. Ann's Center, please click here.