You are here
You're Invited to Hope Blossoms!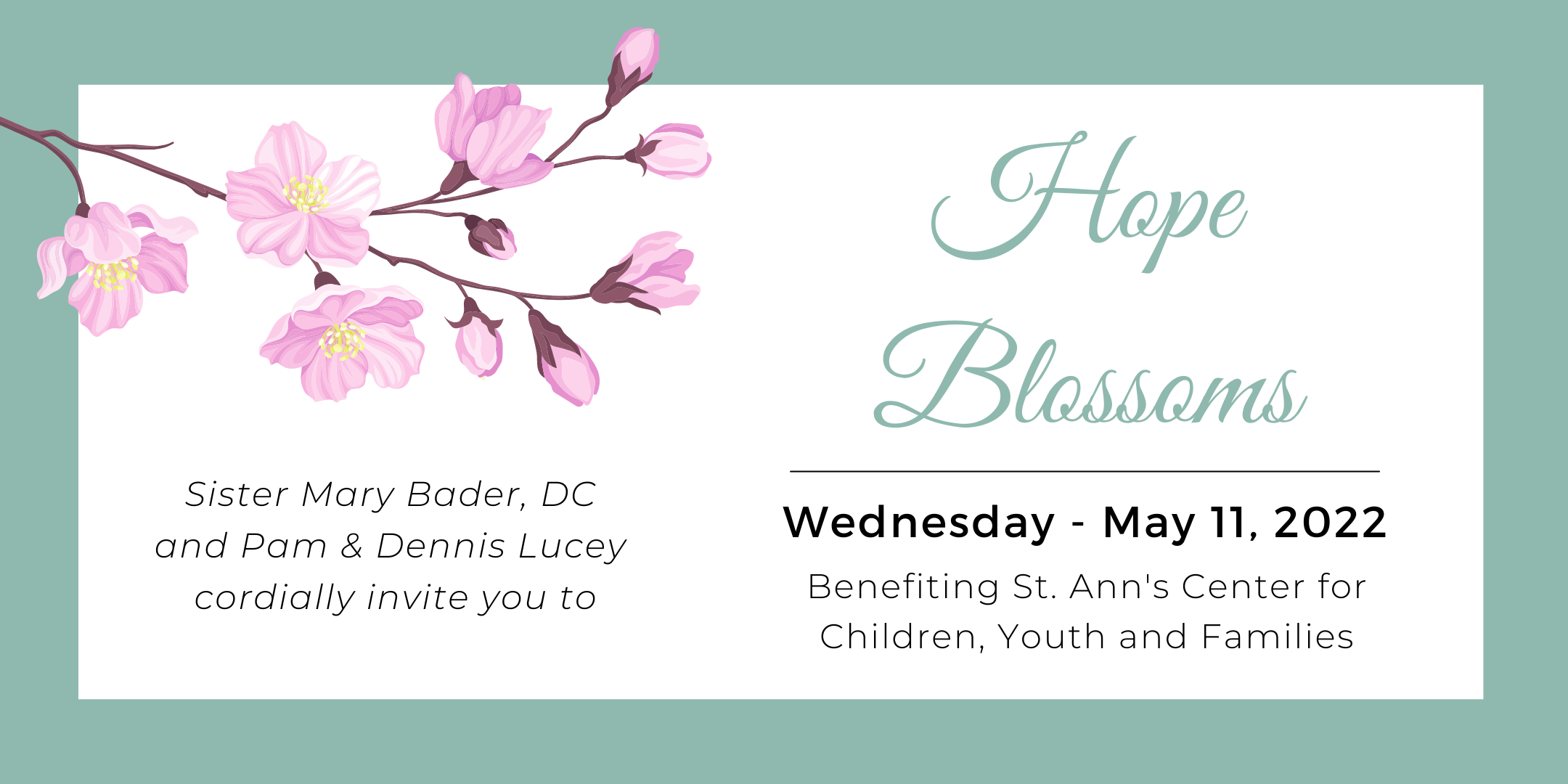 Hope Blossoms 2022 - Sister Mary Bader, DC and Honorary Co-hosts Pam & Dennis Lucey invite you to a celebration of St. Ann's Center's families and our continuing mission to heal, strengthen and inspire vulnerable mothers and their children.
Date: Wednesday, May 11
Time: 6:00 p.m. to 8:00 p.m. Eastern
Location: Columbia Country Club
Address: 7900 Connecticut Avenue, Chevy Chase, Maryland
Ticket & Sponsorship Details: Click HERE
---
Join St. Ann's at Hope Blossoms, an annual awards cocktail reception, where we honor individuals whose work and generosity has helped to advance the well-being of vulnerable children, mothers and families in our community.
HONOREES
Judy and John Ritz, The Mary McGrory Advocacy Award
Steve Heidenberger † (1/21/55 - 8/13/2020), The Michele Heidenberger Volunteer Award
INVOCATION
Wilton Cardinal Gregory, Archbishop of Washington
MASTER OF CEREMONIES
Michael Steele, CNBC Analyst and Former Lieutenant Governor of Maryland
Event Details:
---
THANK YOU TO OUR SPONSORS FOR SUPPORTING HOPE BLOSSOMS
For more information about Hope Blossoms - or to sponsor our gala - please contact Carolyn Boyle at [email protected] or via phone: 301.559.5500 ext 187
Benefactor Sponsors
Kammie and Scott Bell
Pam and Dennis Lucey
Judy and John Ritz
Cory and Joe Rogers
Chris and Lisa Smith
Advocate Sponsors
Andreas Foundation
Colleen Mahoney
Kathy and Ed Quinn, in memory of Anne O'Keefe Quinn
Peter and Carolyn Saba and Family
Believer Sponsors
Hon. James A. Belson
Mike Dunn
Mike and Eileen Fitzgerald
Greg and Weed Forte
Kimberly and John Manthei
Ed and Kelly McCarty
Matt and Mary McCormick
Genevieve Murphy
Seton Guild
Hon. Michael and Andrea Steele
John and Joan Theis
Rev. Msgr. Peter J. Vaghi, Church of the Little Flower in memory of Joan Bader
Colleen and John Williams
Partner Sponsors
Mr. and Mrs. Walter Aertker
C. Maury Devine
Tom and Julia Heidenberger in memory of Steve Heidenberger
Heritage Investors Management Corporation
Doug and Mary Beth McDaniel
Nageotte/Garner Family
Mr. and Mrs. James T. Nalls
R. Scott and Courtney Clark Pastrick
Richie Petitbon (Petitbon Alarm Company)
Linda Rosecan
Tags