You are here
Hope Blossoms 2022: Highlights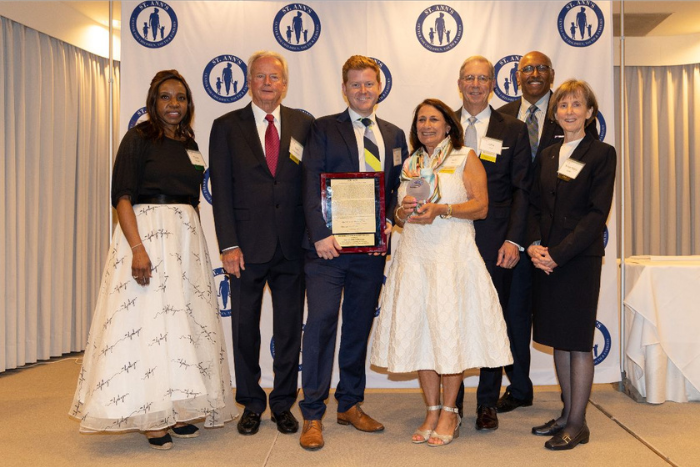 Hope "Blossomed" on May 11, 2022 at Columbia Country Club, where over 300 guests gathered for St. Ann's Center's first in-person reception and awards ceremony since 2019! This special evening was an unprecedented success thanks to our dedicated sponsors, donors, partners, and staff. Here are the highlights:
Sister Mary Bader, CEO, delivered welcoming remarks and thanked Pam and Dennis Lucey, our event co-hosts, for their months of work on this event. St. Ann's Board of Directors and Staff were also recognized.
Wilton Cardinal Gregory, Archbishop of Washington, offered the opening prayer. Cardinal Gregory remarked, "I am deeply grateful for the work of St. Ann's, which for 160 years has served mothers and children in the Washington, DC area by imitating the love of Christ and by extending his compassion."
The Hon. Michael Steele emceed the program. Steele was adopted from St. Ann's as an infant. "You all bless us with your commitment to supporting the mothers, children and families of St. Ann's," Steele said.
A'ja, a current resident of St. Ann's, shared her testimony, citing her son as her greatest inspiration: "I wouldn't be where I am today in my goals without him."
Msgr. John Enzler, CEO of Catholic Charities DC, served as "chief fundraiser." He received help from Tonya Sharpe, St. Ann's Board Chair, who auctioned off two Live Nation VIP ticket packages to winners totaling $34,000.
Attendees and those watching our livestream from home then joined our sponsors in helping St. Ann's surpass $500,000 raised for the night!
Hope Blossoms concluded with awards presentations: The Michele Heidenberger Volunteer Award was posthumously awarded to Steve Heidenberger; The Mary McGrory Advocacy Award was presented to Judy and John Ritz.
Thank you again for joining us.
We look forward to seeing you on May 10, 2023 for next year's Hope Blossoms!
---
Re-Watch Our Event Livestream!


Missed our live event? Check out our Hope Blossoms livestream recording on Youtube at the following link: https://youtu.be/MYKkuuh6TZI?t=3963
Video will start at the 1:06:00 timestamp, at the welcoming address from Sister Mary Bader.
---
View Event Photos!
Please click here to view photos from the evening, courtesy of our dear friend Mike Colella: https://michaeljcolella.passgallery.com/db1XWz9s
Tags