You are here
Melody's Story: From Trauma to Healing and Hope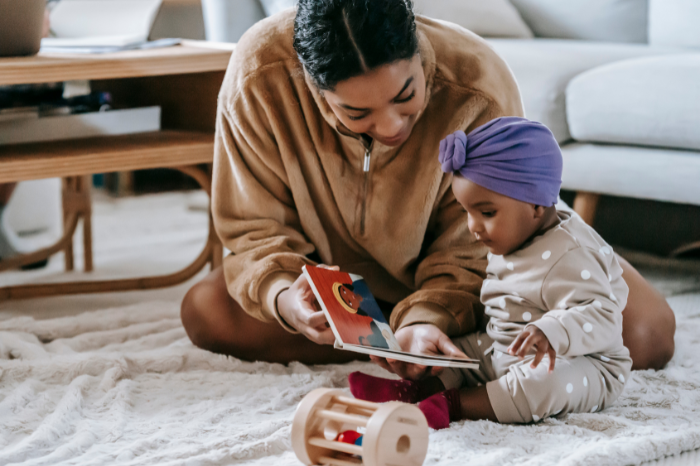 As a survivor of childhood trauma, sadly, when Melody had no familial or social supports she was placed in Maryland's foster care system. When she became pregnant, she moved again, this time to St. Ann's Center's Teen Mother-Baby Program.
When she first arrived at St. Ann's, Melody was extremely distrustful of everyone and exhibited depression and social withdrawal. On one occasion during her first months, she even returned to an old habit of harming herself. Melody was sure she wanted to leave St. Ann's.
Over time and with constant, collective care from St. Ann's Clinical Social Work Services and Residential Program staff (operating within St. Ann's emerging Model of Care), she began to trust.
Melody first allowed a long-standing Residential Programs staff member into her life. Gradually, as she realized she was in a safe environment physically and emotionally, she began to engage with social workers and therapists, who helped her process and the trauma she had experienced in her young life.
She began to believe that maybe she could nurture healthy relationships. Slowly, she widened her circle of support and even repaired relations with some of her family members.
This gradual transformation was possible in part because of Melody's commitment to her daughter. Melody was always an attentive mom, and with guidance from St. Ann's life coaches, she learned how to take care of an infant and how to help her baby develop and thrive.
While at St. Ann's, Melody returned to her studies and graduated high school while her daughter was cared for in St. Ann's developmental Child Care Program. Following this milestone achievement, Melody has successfully transitioned from St. Ann's to a new, stable home. She is now attending college and envisions a bright future for herself and her toddler.
***
This article originally appeared in St. Ann's Center's Spring/Summer 2022 Newsletter.
To read this newsletter in its entirety, please visit the following page:
https://stanns.org/get-involved/newsletter
---
St. Ann's Center's Wrap-Around Supports & Model of Care
St. Ann's Center offers more than transitional housing for families like Melody's. Our housing programs are supported by holistic wrap-around services including:
Affordable, licensed, on-site child care
Clinical and social work services - including case management and individual and group therapy
Education and employment assistance
Life skills classes ranging from finance to law to parenting and self-care
Services are delivered through St. Ann's Residential Program and Clinical and Social Work Services, operating within our emerging Model of Care.
This Model of Care provides a reflective practice lens for St. Ann's staff, while providing residents with a consistent and supportive environment that is trauma-informed, strengths-based, and developmentally focused.
More on our Model of Care: https://www.stanns.org/news/2022/07/st-anns-centers-model-care
Tags