You are here
Welcoming Dr. Augustine Frazer, VP of Programs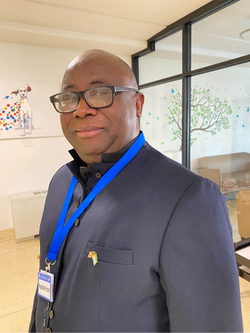 St. Ann's Center is pleased to announce that Dr. Augustine Frazer has accepted the role of Vice President of Programs. Dr. Frazer officially began this role with St. Ann's Center on Tuesday, September 6, 2022.
Dr. Frazer has had significant experience working, planning, leading, and improving in the field of Human Services. His focus and expertise include: crisis and disaster intervention; Child Protective Services/Adult Protective Services, and Income Maintenance Casework; and homeless shelter design, operation and management.
Dr. Frazer has served in public, nonprofit and faith-based organizations. Most recently, Dr. Frazer held the position Deputy Director of a county Department of Social Services in North Carolina. Prior to his current position, he worked as Director of Programming for a Maryland not for profit that runs a family shelter, and supports families in the community with their basic needs of food and clothing, as well as homelessness prevention services.
As a senior program manager in Homeless Housing Assistance at Catholic Charities DC, Dr. Frazer designed and implemented support services for individuals experiencing homelessness; supervised MSW case managers, staff, and security officers at a shelter; managed staff and client safety; developed policy guidance, compliance and coordination of care and services; and performed Quality Assurance and Quality monitoring in line with Council on Accreditation. His other professional experience includes work as a Child Protective Services specialist and Court Liaison, as well as serving as a representative on the Continuum of Care for Eastern Maryland.
Reflecting on what he is most excited for in this new role with St. Ann's, Dr. Frazer shared:
"Walking into St. Ann's brings to life my lived experiences and all lights comes alive in shaping programs for children and families, whose stories are not different than mine."
Welcome to St. Ann's Center, Dr. Frazer!
---
Support St. Ann's Center Families

Thank you for considering a gift to help St. Ann's Center's work of supporting young, vulnerable women and children on their journey toward stability. Your donation will enable St. Ann's Center to meet the immediate needs of our families and will support the long-term sustainability of our life-changing programs.
Donate here: https://donatenow.networkforgood.org/stannscenter
---
About St. Ann's Center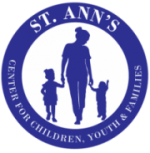 Mission Statement: St. Ann's Center for Children, Youth and Families strengthens and supports families on their journey toward stability. Inspired by Catholic social teaching and Gospel values, St. Ann's Center provides a nurturing community where families heal from the past, overcome barriers, and take hold of their future.
St. Ann's Center is a registered 501(c)3 nonprofit committed to lifting vulnerable children, mothers and families out of poverty and homelessness. Our innovative housing and support programs build upon a family's inherent strengths by providing the tools for life-long independence and self-sufficiency. St. Ann's serves families of all backgrounds and faith identities.