You are here
Fall Social Photos, Highlights, and Thank Yous!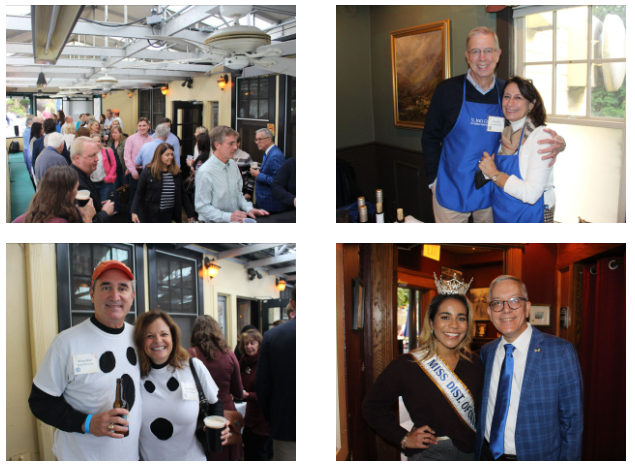 Thank you to everyone - new friends and old - who came out to St. Ann's Center's annual Fall Social on October 5. It was a pleasure to socialize with you and to join in celebrating the families at St. Ann's who have achieved so much on their journeys towards independence and stability.
We especially thank:
The Irish Inn at Glen Echo, for providing a stellar atmosphere.
St. Ann's Board of Directors, for assistance in planning and promoting our event.
St. Ann's Young Professionals, for helping to promote our "Under-35" tickets!
Tricia Lloyd and the Order of Malta, for coordinating Miss DC's attendance.
Our Guest Bartenders: Pam and Dennis Lucey; Katie Jack Lucey and Connie Fabiano; Kristen Coleman McDaniel and Warren McDaniel; Mary Beth and Doug McDaniel; Annie Moore and Vinny Allen; JoJo and David Pim; Judy and John Ritz; Megan and Quinn Rounsaville; Carey and Ryan Shuler.
Our Friends & Supporters who could not attend in person but who joined us in spirit.
And last but not least, St. Ann's Staff - especially Carolyn Boyle - for coordinating another wonderful evening of fellowship in service of St. Ann's mission.
Thank you again for coming out and supporting St. Ann's Center! We can't wait to see you again next year! Until then, relive this year's event by viewing our event photo album.
---
Support Our Work
Thank you for considering a gift to help St. Ann's Center's work of supporting young, vulnerable women and children on their journey toward stability. Your donation will enable St. Ann's to meet the immediate needs of our families and will support the long-term sustainability of our life-changing programs.
Donate Here: https://stanns.org/give
---
About St. Ann's Center
Mission Statement
: St. Ann's Center for Children, Youth and Families strengthens and supports families on their journey toward stability. Inspired by Catholic social teaching and Gospel values, St. Ann's Center provides a nurturing community where families heal from the past, overcome barriers, and take hold of their future.
St. Ann's Center is a registered 501(c)3 nonprofit committed to lifting vulnerable children, mothers and families out of poverty and homelessness. Our innovative housing and support programs build upon a family's inherent strengths by providing the tools for life-long independence and self-sufficiency. St. Ann's serves families of all backgrounds and faith identities.