You are here
Giving Tuesday is Two Weeks Away!

Friend - thank you for your support of St. Ann's Center for Children, Youth and Families.
Because of you, St. Ann's Center is a place where vulnerable families are able to heal from the past and write new futures in a nurturing environment where they are cared for and supported in reaching their unique, self-determined goals.
We hope you may be able to support St. Ann's families in a special way through our 2022 Giving Tuesday drive - taking place on Tuesday, November 29.
On this day we will share special stories, photos, and videos celebrating St. Ann's families and the donors like you who support their many achievements. We will also share a dedicated Giving Tuesday webpage, where you can join others in making a gift of any size to help us reach our Giving Tuesday goal of raising $25,000 for St. Ann's programs.
Thank you for all the ways you support St. Ann's families in reaching their goals!
---
Don't Miss Our Christmas Open House on December 4!
Sister Mary Bader and St. Ann's Center's Board of Directors welcome you to our annual Christmas Open House - taking place Sunday, December 4 from 1:00 p.m. to 3:00 p.m. at our Hyattsville home. We hope you can join us for an afternoon of Christmas cheer!
---
About St. Ann's Center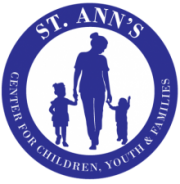 Mission Statement: St. Ann's Center for Children, Youth and Families strengthens and supports families on their journey toward stability. Inspired by Catholic social teaching and Gospel values, St. Ann's Center provides a nurturing community where families heal from the past, overcome barriers, and take hold of their future.
St. Ann's Center is a registered 501(c)3 nonprofit committed to lifting vulnerable children, mothers and families out of poverty and homelessness. Our innovative housing and support programs build upon a family's inherent strengths by providing the tools for life-long independence and self-sufficiency. St. Ann's serves families of all backgrounds and faith identities.