You are here
Meet Our 2023 Honorees: Kathy and Ed Quinn!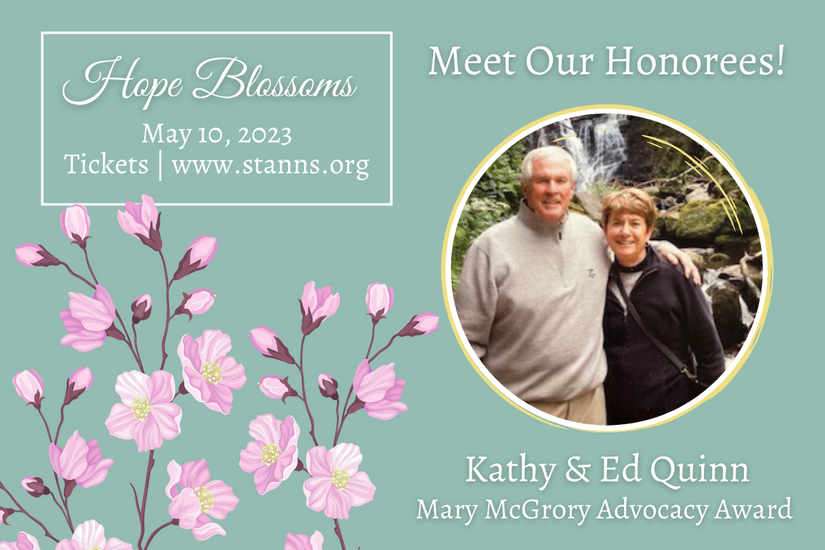 St. Ann's congratulates upcoming Hope Blossoms honorees Kathy and Ed Quinn, who will receive the Mary McGrory Advocacy Award at our May 10 event. This annual award recognizes individuals who accompany, support and uplift those at the margins - including the mothers and their children residing at St. Ann's Center.
The Quinn's' support of St. Ann's Center is part of their charitable work throughout the Washington, D.C. region. In addition to supporting St. Ann's families, Kathy and Ed have dedicated time, talent and treasure to Catholic Charities of the Archdiocese of Washington, SOME, DC Central Kitchen, and the Yellow Ribbon Fund – of which Ed is one of the founders.
---
Meet Our 2023 Honorees - Kathy and Ed Quinn
Washington, D.C. natives Kathy and Ed Quinn were raised in families that emphasized volunteerism and giving back. Kathy attended St. Ann's Church and Immaculata High School, while Ed attended Blessed Sacrament and St. John's College High School. They married after Ed graduated from Providence College, and started a family soon after. Today, their three sons and two daughters have blessed them with 20 grandchildren!
After earning an MBA at night from American University, Ed worked in finance and then as a business consultant. In the 1990s he led a group in purchasing TW Perry, which he sold in 2020. While raising their family, Kathy volunteered at St. Martin's House and in 1988 graduated from Trinity College – the same year her oldest daughter graduated from Villanova University! Kathy later worked at Montgomery Hospice and at Catholic Charities in event planning. Following the sale of TW Perry, Ed and Kathy formed a foundation and now focus on charitable funding.
Kathy and Ed, please tell us how you were first introduced to St. Ann's Center. What was the moment you decided, "I need to support this work?"
Ed recalled St. Ann's from its time as a home for infants, and his mother volunteered here as part of the Blessed Sacrament Sodality. "She grew up in a Philadelphia orphanage, and always had a commitment to supporting St. Ann's," he said. After her death, Ed and Kathy paid a visit to St. Ann's and presented then-CEO Sister Josephine Murphy with a bequest from his mother's will – ant that inspired them to become involved themselves.
And Kathy recalls being moved by a letter from Sister Josephine to the Washington Post in response to a judicial decision that pressed St. Ann's to return children back to unsafe family homes. "And of course, there's Mary McGrory and her relationship with St. Ann's. She was a volunteer here her whole life."
What's been most gratifying to you as you've advocated for and supported the needs of our vulnerable young mothers and their children?
For Kathy, her years as a St. Martin's House volunteer influenced her involvement with St. Ann's Center. In helping to care for young children whose parents were wrestling with addictions, Kathy observed that "It is so important that a child at any age is safe, and that they know they'll be safe. And a lot of kids don't have that. St. Ann's provides that safety and security."
Ed agrees. "The 'product' at St. Ann's is hope – for someone to have hope and some vision of what they can become, that's an amazing gift. We know what it takes to raise a family, and we're committed to helping others do the same."
What advice would you give to others who wish to support St. Ann's?
Kathy encourages all who are interested to speak with Sister Mary Bader and learn more about the mission. "She's a gem, and we need more like her." Ed feels that although there are many people his age who may want to consider financially supporting St. Ann's, it's especially important for younger people to be involved too, regardless of their means.
"You can help St. Ann's in lots of different ways. It's just a matter of giving yourself and your time as a volunteer. There is a role for everyone at St. Ann's, based on your skills."
Just for fun: what is your favorite part of living in the DC region?
Kathy and Ed agree: Washington D.C. is a beautiful city! "We are fortunate to enjoy friends and family who live very close by," Kathy says. "We're within walking distance of two of our children, and that's a gift. Living in a city like Washington, D.C. means there are lots of supports available."
Adds Ed: "I've always had an interest in sports and think it's great for the community. It doesn't hurt to enjoy the occasional winning sports team!"
---
Hope Blossoms 2023
Date: Wednesday, May 10, 2023 | Time: 6:00 to 8:00 p.m. | Place: Columbia Country Club

For tickets, please click here: https://apps.stanns.org/special-events?EV=105
All proceeds will directly support St. Ann's Center's programs.
About the Event
His Excellency Roy Edward Campbell, Jr., Auxiliary Bishop of Washington, will deliver the invocation at our event with Michael Steele, MSNBC Analyst and Former Lieutenant Governor of Maryland, serving as Master of Ceremonies.
Community change-makers Kathy and Ed Quinn will receive the Mary McGrory Advocacy Award; and longtime St. Ann's volunteers Trudy Conrad and Luke Hester will each be honored with the Michele Heidenberger Volunteer Award for their respective volunteer service benefiting St. Ann's families.
Each year, proceeds from Hope Blossoms help St. Ann's Center provide transitional housing and extensive support programming to families experiencing homelessness. Mothers are offered counseling, mentoring, life skills and parenting classes, opportunities for further education, and employment coaching. Children – both in residence and from the community – benefit from our on-site Child Care Center, which also includes an Early Head Start program.
Don't miss out! Tickets to Hope Blossoms 2023 are available here!