You are here
Support St. Ann's Center on this Feast Day!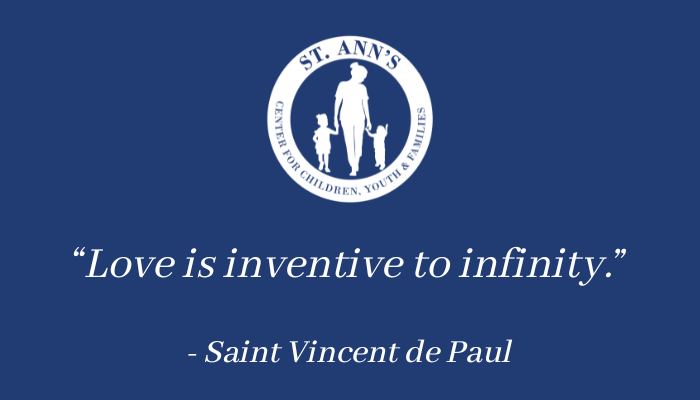 ---
Sept. 27, 2022 - Celebrating St. Vincent de Paul
Today, St. Ann's Center invites you to join us in celebrating the Feast Day of Saint Vincent de Paul! Known as the "Apostle of Charity," Saint Vincent was a pioneer of mission work in his native France, finding uniquely creative ways to serve and stand with the poor of his day.

Saint Vincent's collaboration with another gifted leader, Saint Louise de Marillac, led to their founding of the Daughters of Charity in 1633. The Daughters of Charity went on to found many schools, hospitals, and social service agencies, a legacy which includes founding St. Ann's Center in 1860.

Our challenges may be different than the ones Saint Vincent faced during his lifetime, but our response is fundamentally the same – to be loving and "creative to infinity" in our service to those most in need. When housing-insecure mothers and their children arrive at St. Ann's, they aren't just provided with transitional housing – they are cared for in an environment that is safe, nurturing, healing, empowering, strength based, and where all are served with compassion, dignity and respect.*

Since our earliest days in DC, many special women and men have sustained and strengthened St. Ann's ability to provide consistent care for the most vulnerable - even through nation and world-changing events. You are an essential part of this tradition of caring!

Through your generous time, talent, and treasure, you have allowed St. Ann's to continue following the path of Gospel charity illuminated by Saint Vincent and his contemporaries. Thank you for giving us so much to celebrate and be thankful for on this special Feast Day!

*From St. Ann's Center's Mission, Vision, and Values.
---
Make a Feast Day Gift!
Thank you for considering a gift to help St. Ann's Center's work of supporting young, vulnerable women and children on their journey toward stability. Your donation will enable St. Ann's to meet the immediate needs of our families and will support the long-term sustainability of our life-changing programs.
Donate Here: https://stanns.org/give
---
About St. Ann's Center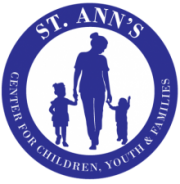 Mission Statement: St. Ann's Center for Children, Youth and Families strengthens and supports families on their journey toward stability. Inspired by Catholic social teaching and Gospel values, St. Ann's Center provides a nurturing community where families heal from the past, overcome barriers, and take hold of their future.
St. Ann's Center is a registered 501(c)3 nonprofit committed to lifting vulnerable children, mothers and families out of poverty and homelessness. Our innovative housing and support programs build upon a family's inherent strengths by providing the tools for life-long independence and self-sufficiency. St. Ann's serves families of all backgrounds and faith identities.