You are here
In Her Own Words: Sierra's Story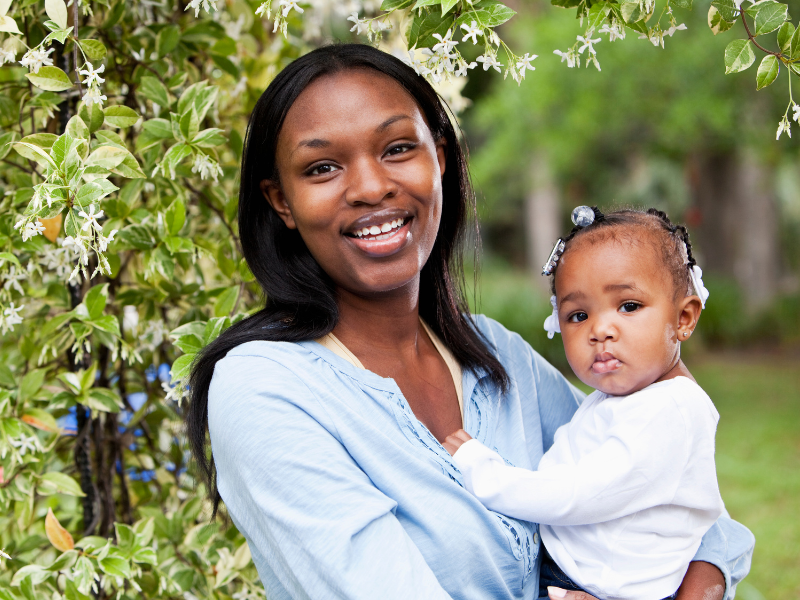 For client confidentiality, Sierra (not real name) and her daughter are not depicted in the above, licensed image.
Sierra is an accomplished student and an aspiring business owner who moved with her daughter into St. Ann's Center's Hope House program after her employer shuttered during COVID. Sierra took time out of her busy schedule to share her journey and her experience as a young mother.
My name is Sierra, and I have been living with my one-year-old daughter at St. Ann's Center since February 2022. Her father and I co-parent together and it is going really well. I am glad that we co-parent her, since I grew up without my own parents and parented myself to adulthood.
Pursuing my education is important to me. In the same year I graduated from high school, I also graduated from Prince George's Community College. Then in 2019, I entered trade school and graduated in 2021 – when I was three-and-a-half months pregnant. I completed another trade school program in August 2022. I am also currently in a nursing program.
Prior to COVID, I did have my own place – but when the pandemic hit, the child care center I worked for closed down and without my job I faced eviction. I stayed briefly with family but that was unfortunately not long-term. During this stressful time, I also found out I was pregnant.
I was able to stay with another housing program, but this program had a deadline for when I needed to transition out. So I researched other housing programs and found St. Ann's.
St. Ann's was not what I expected at all – it was great. I had a good intake conversation with Ms. Gatewood, and processing didn't take long at all. Coming from a shared home with common rooms, I was excited that St. Ann's provided a private room for me and my daughter. The [on-site] day care is wonderful since I can have my daughter there while I am working.
Finding employment was challenging, but I was able to get a job at a local supermarket. My manager has been very supportive in allowing me to set my schedule around my daughter's needs. I am also working on another challenge: setting up and maintaining a budget. St. Ann's staff has helped me plan a budget and create a budget binder to keep track of everything.
I am proud of the goals I have achieved at St. Ann's. Along with Ms. Gatewood, I have worked most closely with Ms. Celeste, Ms. Keisha, Ms. Gayle, and Ms. Tawanda. These women have been like mother figures to me. I want to say thank you to them, and also to Sister Mary Bader.
"Never give up for your child."
My daughter's father and his parents (my daughter's grandparents) are an inspiration to me. Through their words and their actions, they have really supported me. My daughter motivates me to keep growing and learning. I refuse to give up for her. Motherhood to me is putting my daughter first. I didn't have the help I needed growing up, but I want her to have it.
In the short term, I am looking forward to finishing my nursing program. It's self-paced, so I can work at it between parenting and my job. In the near future, I hope to own my own business – a one-stop hair and nail salon which also offers on-site child care for the community.
We are still figuring out the long-term plans, but I can say that my hope and dream for my daughter is that she grows up into someone who keeps pushing, doesn't quit, and never gives up on herself.
---
Support Our Work
Thank you for considering a gift to help St. Ann's Center's work of supporting young, vulnerable women and children on their journey toward stability. Your donation will enable St. Ann's to meet the immediate needs of our families and will support the long-term sustainability of our life-changing programs.
Donate Here: https://stanns.org/give
---
About St. Ann's Center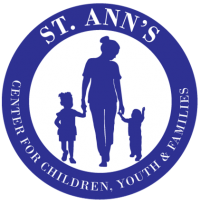 Mission Statement: St. Ann's Center for Children, Youth and Families strengthens and supports families on their journey toward stability. Inspired by Catholic social teaching and Gospel values, St. Ann's Center provides a nurturing community where families heal from the past, overcome barriers, and take hold of their future.
St. Ann's Center is a registered 501(c)3 nonprofit committed to lifting vulnerable children, mothers and families out of poverty and homelessness. Our innovative housing and support programs build upon a family's inherent strengths by providing the tools for life-long independence and self-sufficiency. St. Ann's serves families of all backgrounds and faith identities.
Tags