You are here
The Story Behind our Hope Blossoms Gala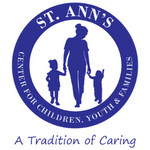 From Nightlight to Hope Blossoms:
Ten Years of Celebrating and Supporting St. Ann's!
In the afterglow of St. Ann's Center's 150th Anniversary Gala in 2010, Board Member and "volunteer extraordinaire" Steve Heidenberger † (1955-2020) had a suggestion: "Let's keep this going!" Under his leadership, planning commenced for an annual spring celebration to support St. Ann's.
On March 7, 2012, at Columbia Country Club, the inaugural Nightlight gala took place, gathering supporters to light a "beacon of hope" for vulnerable children, youth and families.
"Steve really had the vision for this," said longtime St. Ann's volunteer and former board member Barbara Ann Kelly Myers, who served on that first planning committee. "He saw it as a way for St. Ann's to make friends and retain friends each year and he got the gala up and running."
St. Ann's first Nightlight gala featured another first: the establishment of the
Michele Heidenberger Volunteer Award – named in honor of Steve's sister-in-law Michele, a beloved St. Ann's volunteer and American Airlines flight attendant who perished on 9/11. The award recipient was Jane Cahill, who hosted yearly fundraisers at her wine shop for over a decade to support St. Ann's.
At this first gala St. Ann's also instituted the Mary McGrory Advocacy Award, named for the award-winning Washington Post journalist who championed St. Ann's Center for more than five decades. This award was bestowed to former NBC4 anchor Barbara Harrison, whose "Wednesday's Child" segment featured children awaiting adoption into loving homes.
Nightlight gala attendees also heard personal testimony from Cintia, a former St. Ann's resident who spoke movingly about how St. Ann's programs helped her and her family. "She was very uplifting," said Myers. "There wasn't a dry eye in the house."
After the success of the 2012 event, the consensus was in – this gala was here to stay. Just two years later, former board member Lynda Anderson suggested that while "lighting the night" helped shine attention on the needs of our residents, "hope really blossoms" for the young women and their children when they enter St. Ann's. Thus the event was re-named, and since 2014 the Hope Blossoms gala has helped sustain St. Ann's programs and facilities.
Over the years St. Ann's leadership has presented the Mary McGrory Advocacy Award to outstanding advocates whose work has brought attention to the needs of some of the community's voiceless: homeless and vulnerable youth and their mothers. This year, Judy and John Ritz will join past recipients in receiving this honor for their contributions.
For his tireless work on behalf of St. Ann's, Steve Heidenberger will be posthumously honored with the 2022 Michele Heidenberger Volunteer Award at the event he helped create. "It's so fitting for him to receive this," Myers said. "He did so much for St. Ann's. Honoring him posthumously this year with the award named for Michele is the perfect thing for St. Ann's to do."
---
---
Tags