You are here
Hope Blossoms in 50 Days!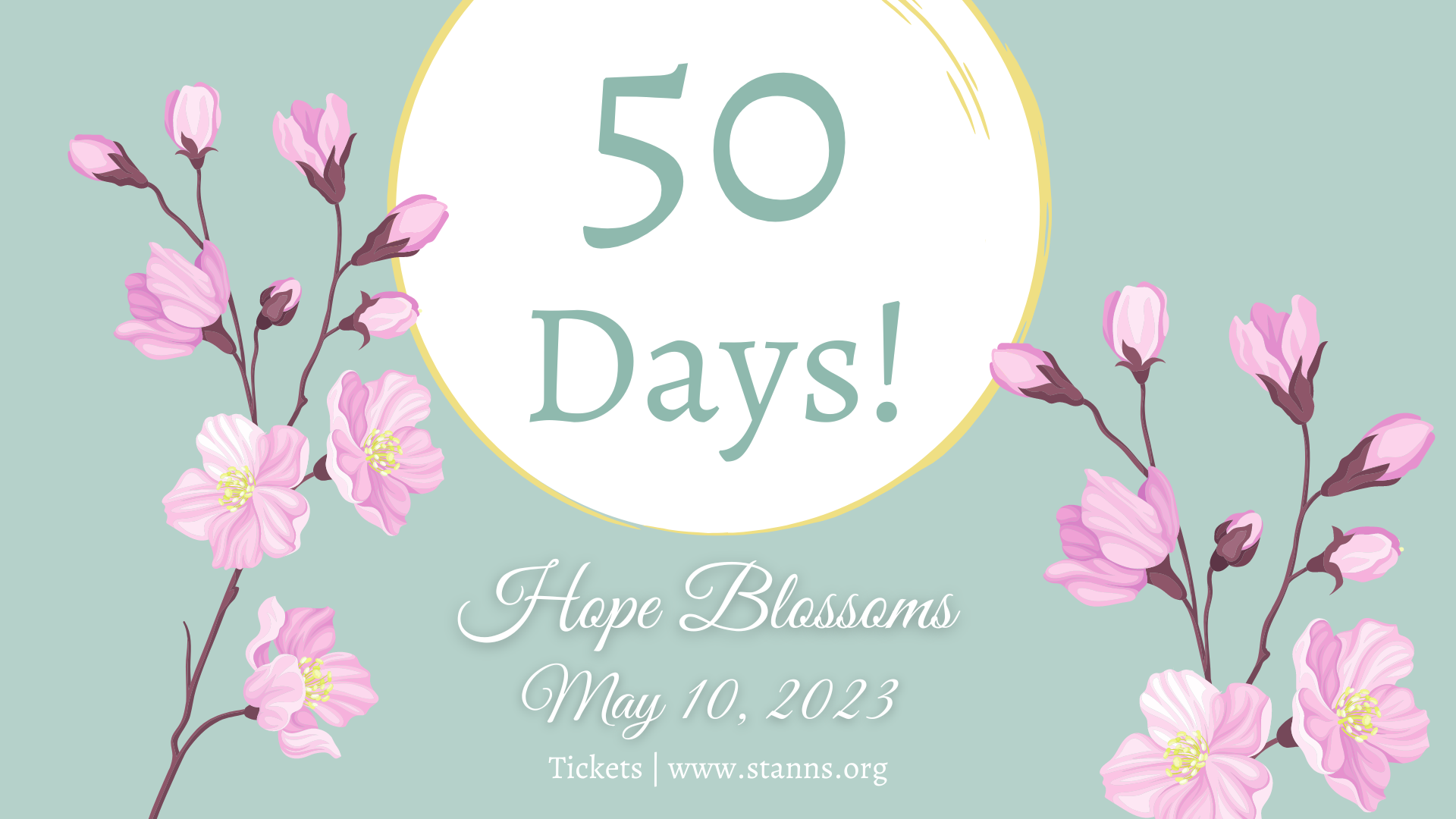 50 Days until #HopeBlossoms! Will you join us?
Sister Mary Bader, DC, and Honorary Co-Hosts Jan & John Magnolia invite you to Hope Blossoms - our annual cocktail reception and awards ceremony which celebrates and supports the families rewriting their futures at St. Ann's Center.
---
Hope Blossoms 2023
Date: Wednesday, May 10, 2023 | Time: 6:00 to 8:00 p.m. | Place: Columbia Country Club

For tickets, please click here: https://apps.stanns.org/special-events?EV=105
All proceeds will directly support St. Ann's Center's programs.
---
About the Event
His Excellency Roy Edward Campbell, Jr., Auxiliary Bishop of Washington, will deliver the invocation at our event with Michael Steele, MSNBC Analyst and Former Lieutenant Governor of Maryland, serving as Master of Ceremonies.
Community change-makers Kathy and Ed Quinn will receive the Mary McGrory Advocacy Award; and longtime St. Ann's volunteers Trudy Conrad and Luke Hester will each be honored with the Michele Heidenberger Volunteer Award for their respective volunteer service benefiting St. Ann's families.
Each year, proceeds from Hope Blossoms help St. Ann's Center provide transitional housing and extensive support programming to families experiencing homelessness. Mothers are offered counseling, mentoring, life skills and parenting classes, opportunities for further education, and employment coaching. Children – both in residence and from the community – benefit from our on-site Child Care Center, which also includes an Early Head Start program.
Don't miss out! Tickets to Hope Blossoms 2023 are available here!
---
Interested in Becoming an Event Sponsor?
Sponsors play a prominent role in the success of St. Ann's Center's annual cocktail reception and awards ceremony, Hope Blossoms. If you are interested in this opportunity and corresponding sponsorship benefits, please contact Susan Flaherty, Vice President of Development, at 301-559-5500 ext. 163, or by email at [email protected].
You can also view a listing of our 2023 Hope Blossoms sponsorship and advertising opportunities here: https://apps.stanns.org/special-events?EV=105.
Or, click here to print and mail our sponsorship form.

Thank you for your interest in St. Ann's Center and our Hope Blossoms event!